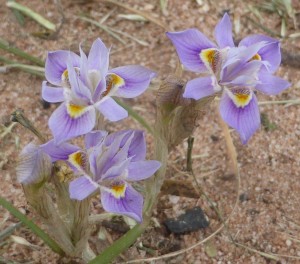 Introducing a very pretty little flower seen on the ground in spring, that unfortunately is a native of South Africa and an environmental weed in Victoria today: Moraea setifolia, the Thread Iris.
How do you recognise a Thread Iris?  Once you have, how do you manage this in Australia to support the UN Decade of Biodiversity and its theme Living in Harmony with Nature?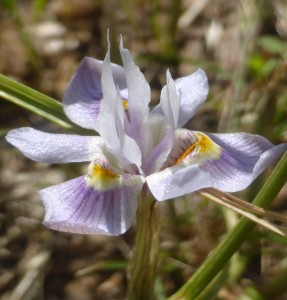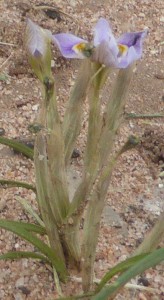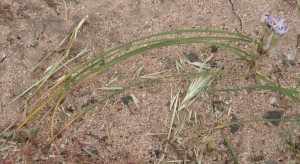 The most noticeable thing is the mauve outer and yellow inner petals of a mini-sized iris on the ground.
The stem under this is short and stocky and pale green.
The leaf might be missed – one long thin leaf making an arc over the ground.
After the flower has gone, this leaf remains.
What you won't see is the stem reaching down into the soil to a bulb some 10 cm below.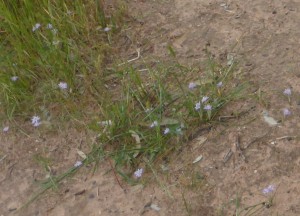 Adaptation in Australia– the leaves remain as a summer food for kangaroos and the roots for wombats, eg as reported from the Ellura Sanctuary .
Explanation of  how Thread Iris grow as a weed in Australia: see Kaelkitty's comments on Dave's Garden's  Iris webpage (see also its environmental needs there)
Examples of an identification in South Africa are found on the Open University's  iSpot nature website e.g. from  Fouriesberg, Northern Outeniqua
return to main Biodiversity on Farms page
(cc) Jeanie Clark , page updated 13 October 2016