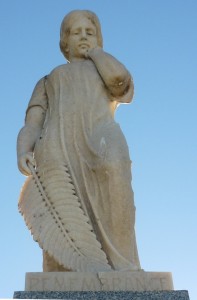 There are incredible resources around now for discovering what individuals did in the Great War. As a family historian, I have been amazed at the stories that I have found. I have also researched other people who have interested me.  This page will give a pdf sheet for each man that covers the key points in his story, and the sources so that you can discover more if you choose.   Due to the French Great War link, some pages may also have a French introduction. (Still being added to.)
The Rossiter Brothers from Warracknabeal 
These two younger brothers in a large family went to school in Warracknabeal. They were both fighting on Gallipoli, but seperately: one at the start, the other at the end:
Pvte Reginal James Rossiter –  died in the second wave of ANZACs onto Gallipoli. But there were huge problems getting notification of this back home to his mother and later returning his effects to her. His history is in this pdf  Reg James Rossiter3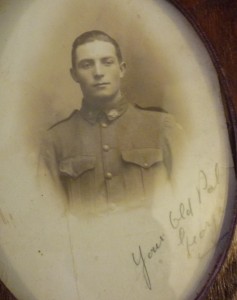 Sgt Roland George Rossiter, his younger brother – born in Warracknabeal – put up his age to enlist at 17, spent the spring on Gallipoli, went to various theatres in France, where he rose to Sgt and was also injured a couple of times, but he survived and lived to his 90′s.  His history is in this pdf George Rossiter5
Here is this introduction to these brothers in French lesFreresRossiter
 Jeparit's Great War  volunteers 
This 12 Jeparit Great War volunteers is a pdf of volunteers to the Great War, with their origins, enlistment and war service summaries- several were related and/or friends.
This is the story of one of those volunteers listed above: Born of German immigrant parents, Lance -Corporal Hermann Schulze volunteered for the Great War and died fighting Germans at Bullecourt, on the Somme.   Jeparit P.S. students made his story the focus of ANZAC studies with me in 2017.  Contact me for his story in a picture book format (not yet on-line) or recollections.
 Volunteers from the Frederick Meredith Descendants' Group
This is the beginning of this listing – focussing on three Joyce brothers from one family of Neutral Bay, Sydney.
Dvr Ernest Daniel Joyce  – died at Harbonnieres east of Villers- Bretonneux on 10 August 1918. I published his story in the FMDG news in 2014. Contact me for a copy of his full story (not yet on-line) .
2nd Lt Norman Roy Joyce – brother of E. D. Joyce, being ten years younger.  From the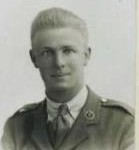 school/youth cadets and with an interest in aviation, Norman made his way to England to join the Royal Flying Corps. His last flight was over Moreuil Wood, supporting the Canadians on the ground on 1 April 1918. It was the day the RFC became the Royal Air Force.  He crashed and died south of the village of Thennes – where in 2018, a resident confirmed that the knowledge of this has been passed down and is remembered.   Contact me for a copy of his full story (not yet on-line).  You are invited to leave a poppy for him on his page at the RAF Museum Story Vault
A third brother, Private James Albert Joyce, was somewhere to the  northwest of Villers-Bretonneux when he was shot and gassed on 23 March 1918. He was returned to Australia in June due to his injuries.
There are more still to come as I have time!
return to Cultural environments main page
Go to the page for the departure of the first convoy to the Great War from Australia
or to the page about ANZAC environments today.
page began on 23 March 2015, updated 6 Aug 2018, March 2019  (c) Jeanie Clark, Warracknabeal 2015