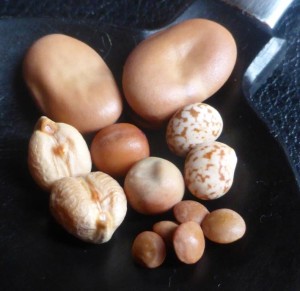 2016 was the International Year of Pulses (IYP) – with the theme 'Nutritional seeds for a sustainable future'.  You can learn more about pulses whatever the year is! 
This page has 4 sections with links putting pulses into education:
A of my pulse teaching ideas
1 overview article (ozEEnews) and 
2 a series of four articles  (Otherways) with pulses activities and resources in an education theme.
B and the teaching events
3  Description of the two Wimmera pulses incursion programs (short and long) and
4 posts about parts of pulse events on LinkedIn
5 description of regional community events with pulses .
1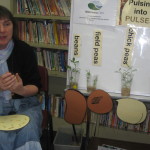 My overview for this year "Putting the IYP into Environmental Education and Education for Sustainability' (ozEEnews March 2016 p3 ) covered what pulses are, the IYP's aims and key messages and their global teaching resource.  There are further articles by other authors on the IYP in this edition of the Aust Assoc. of Environmental Education's 'ozEEnews'.   Learning about pulses can fit very well into Science, Environment and Sustainability Education.
2  Series of 4 articles describing pulses activities published in "Otherways"  2016 :
'From Soils to Pulses'    (from Soils to Pulses  Otherways Feb 2016 issue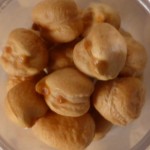 47) covers Thinking Skills that could be developed in exploring what pulses are and the IYP logo .
Growing Pulses for Science (Grow Pulses for Science Otherways  May 2016 issue 148 ) investigates the insides and sprouting of pulses  as an example of plant growth.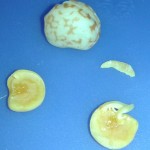 Nutritious Pulses  (Nutritious Pulses Otherways Aug 2016 issue 149 pp 32-33)  covers food groups, nutrition and how pulses fit into this in a healthy diet.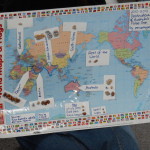 Our Pulses and the World (Our Pulses & the world Otherways October 2016 issue 150  pp30-31 ) covers springtime development of pulse plants, origins of pulses, Lupin seed breeding history in Australia, Wimmera- Mallee areas of pulses sown in 2016 (see 2016 Wimmera-Mallee pulse acreages)  and reasons for differences, destinations of the Australian pulse crop (see 2010-2014 Key Austn Pulse Crop Destinations) , locally available products,and the slogan "nutritious seeds for a sustainable future".
3 Wimmera Primary school's Pulses education incursion program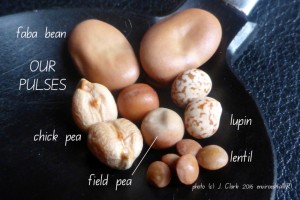 The Wimmera 2016 Pulses incursions focussed on pulses grown in  the Wimmera-Mallee shown in the photo right. Photos and identification worksheets for these pulses (with grains and oil seeds)  grown in our region can be found on the 'Crops'  page
3.1 'Pulsing into Pulses" – a 4-session program in T2-3:
1 June – Get to know pulses – especially those of the Wimmera -Mallee  eg Donald St Mary's PS session   

2 July – Growing pulses – setting up our mini-farms to grow 10 seeds per child for 28 days
3 Aug (National Science Week) – Farming pulses –

reporting on the growth of our 150 mini-farms of pulses from 9 classes in 7 schools.
4 Sept – 'Wimmera-Mallee' pulses – sharing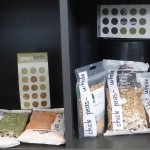 the results of our 9 class experiment, and surveys from the schools about what pulses are being grown locally and why (see grouping activity at  Wimmera farmers reasons for planting pulses),
and the pulses acreages for the Wimmera-Mallee 2016 (see  table 2 page 30 Otherways issue 150 article above), the destinations of Australia's 2010-2014 pulse production (see map p 31 of Otherways 150 article above) and some local pulse products and ending with an artwork creating an IY Pulses style logo from our own local pulses. 
3.2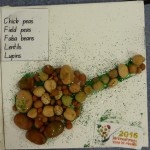 'Get to know Pulses" – a 1-session program in T4 :
covered the pulse types, how they grow and the main destinations of the Australian crop in the world. Some of these sessions also ended in the IYP style logo artwork.
Participation statistics:
17 classes, 296 children and 28 teachers/aides, from 11 ' Wimmera' town primary schools:
Pulsing into pulses  – Beulah F-6, Jeparit F-6, Nhill Y5/6 (2), St Marys Donald F-2 & Y3-6, St Mary's Warracknabeal Y5/6, St Peters Lutheran School Dimboola Y3-6, Yaapeet F-6 (143 evaluations)
Get to know pulses – Dimboola y3/4, Minyip y3-6 & F-2 in buddy program, OLHC Murtoa Y3-6, Horsham Rasmussen St Y3/4 & Y4/5, Rainbow y4, Stawell West Y5, and the Wimmera Home Education Group (WHEG) F-10. (149 'amazing' comments as evaluations)
Farmer Survey (reasons why you grow pulses) responses: 25 parent farmers from 6 towns.
In-class hours = 66 as 1.5 hour sessions: 4 per Pulsing into pulses and 1 per Get to know pulses
Media: 25 articles in school newsletters, 4 articles in town paper, 2 articles in magazines with national reach, 1 series of 4 articles in magazine with national reach. FB, LN, TT and website posts.
Project and most media created, and program delivered by Jeanie Clark, enviroed4all®.
Thank you for the funding for the above incursions from :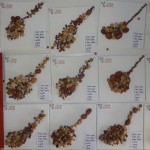 the Wimmera Catchment Management Authority for  8 Wimmera rural primary composite classes and a Term 4 (October -November) one-off incursion program.
Peaco Ltd in Donald (and other individuals) for St Mary's Primary School, Donald, classes and Mallee CMA for Beulah PS.
4 LinkedIn Posts about parts of events
4-article series in Otherways for the IY Pulses 2016 covering ways to put pulses into education and reasons to do so
Pulsing into Pulses Session 4 – Comparison of about 150 pulse mini – farms  grown by  8 Wimmera classes
Pulsing into Pulses Session 3-  National Science Week session reporting how the 28-day mini-farm experiments in growing pulses went for each of the 8 classes
Project Platypus Landcare for Kids soils and pulses events
Hopetoun Women on Farms Gathering with soils and pulses event
At Hopetoun's Women of Farms Gathering,  (March, photos above)  and the two Project Platypus 'Landcare for Kids" events at Stawell and Great Western in the July school holidays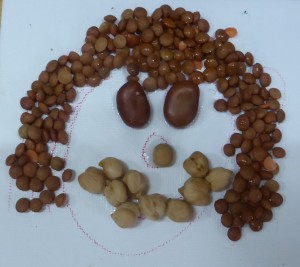 , the enviroed4all(R) provided 'environmental education activities for children',  which included 'Get to Know Pulses' and/or 'Pulsing Portraits'  activities using the variety of Wimmera pulses above.
Great Grains , and Soil Selfies- all shown above- and this 327kb pdf  projects summary of  the enviroed4allRsummary handout2 is available on my website – it could be used by schools or families.
A summary of this IYP project went onto the FAO's IYP  blog as a post in May 2017.  There is a great range of articles from many different perspectives around the world on this blog.
Page updated 14 April 2016, 17 May 2016, 7 June 2016, 1 Aug 2016, 17 Sept 2016,23 Jan 2017, 3 June 2017