While many people think 'environment' means the natural world, it is actually more than that. In its full sense it covers the built / man-made environment and the cultural environment, especially coming from history.
As a family historian, I have researched many aspects of cultural environments over time. This section of my website is for sharing such knowledge and activities, including ready- to- teach ones. (PS If you use my materials, I'd love some feedback.)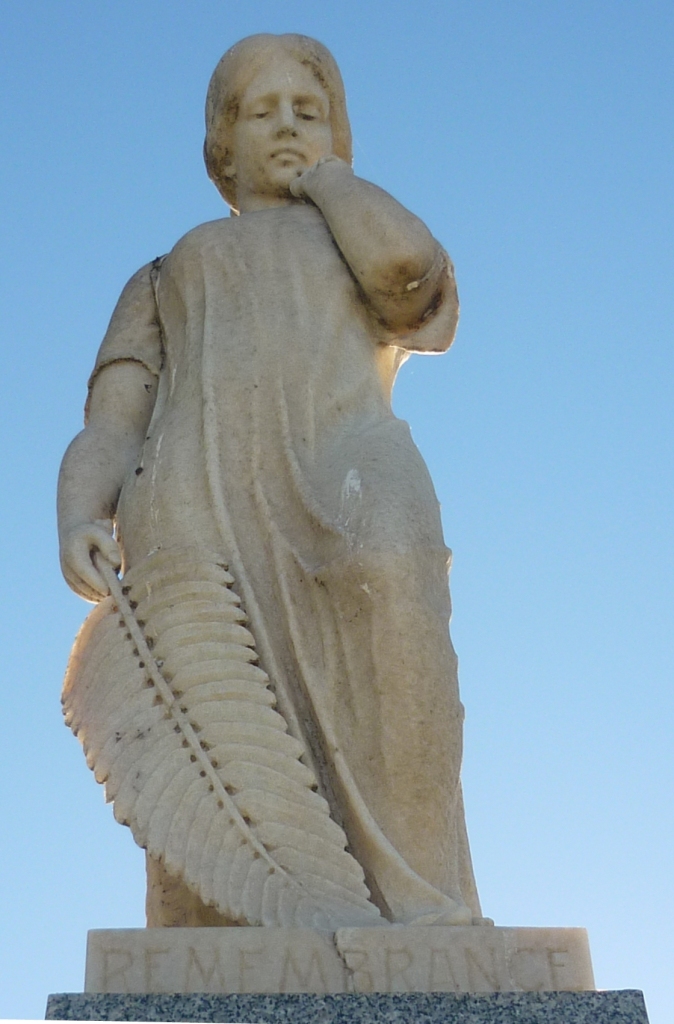 From 1914-1918, the Great War drew the world in to what people thought about, what they did and how they used the resources around them.  Now we come to commemorate its centenary, and again this war is  becoming an active part of our cultural environment. Hence this section on Anzac Cultural environments, events and personal stories, which will grow over the 2014-2018 period
For example, look carefully at this photo of a Great War Memorial in rural Victoria, for the word under the statue.  Think about what the community  nearly 100 years ago wanted for the future when they commissioned this statue, and what message it sends to us today about our cultural heritage/environment, especially as we embark upon the centennial commemorations of the Great War in so many places in the world.
There are three subpages in this section:
1 Anzac Cultural Environments
This section will have links to places of engagement and memorials:
 3 From the

Somme

,

3a based on the" Do not Forget Australia" film made by the Children of

Villers-Bretonneux

for the centenary of the 24-25 April 2018 battle there when the Australians turned back the Germans, and subsequently when Victorian school children helped rebuild the Ecole Victoria School.
3b the battle of

Bullecourt 

3c from my visit to

V-B 

 for ANZAC Day 2015.

2. from local

memorials

:

'2a in the

Wimmera 

2b at the

Shrine of Remembrance 

1. This "

Treasure Hunting

" activity for a small Wimmera town's memorial can be adapted to  help explorations for your local memorial.
2 Events of the Great War
The first activity on this page is about the  First Convoy's Departure from Australia for the War. 
Today, it is hard to conceive of the size of the first convoy sent to the Great War  in October 1914 from Albany just over a month after it began.  This Maths and Design based activity uses raw data of the ships, men and horses from that first convoy of Australian and New Zealanders .  This page has suggestions on how to use it to commemorate the start of the journey to the War.
3 Great War Soldiers.
This page will have histories about individual men from their Great War records.
It can be used for History, English, Geography, Maths etc, but I am putting my efforts into discovering the men's stories so that you can use it in any way that fits your needs. There may also be some French introductions due to French on-going commemorations and respect for the soldiers who persevered and fought for their freedom in this War.
1  from Warracknabeal : This page begins with two Rossiter brothers who were children in Warracknabeal and separately on Gallipoli: Pvte Reginal James Rossiter  (died 25 April 1915) and Sgt Roland George Rossiter (returned home in 1919). It has a Frence version.

2 from Jeparit: Activities follow  to discover the stories of 12 soldiers of Jeparit.
3 from the Frederick Meredith Descendants Group : the Joyce brothers: Drvr Ernest Daniel (died east of V-B at Harbonnieres on 10 August 1918), 2nd Lt Norman Roy (died south west of V-B at Moreuil Wood, on 1 April 1918) and Pvte James Albert (gassed northwest of V-B on 23 March 1918, and returned to Australia).
Vin Terry (at school in Australia, working in Fiji during the Great War)
This section will be added to over the duration of the Great War centennial as my commemoration of the freedom that was fought for by so many men and pain suffered by so many families – of which we today are still direct beneficiaries. 
page updated 26 June  2015, 27 December 2020  (c) Jeanie Clark, Warracknabeal 2020,  .