How can we explore ANZAC places as cultural environments? 
Treasure hunting in your local ANZAC places,

Discovering our ANZAC memorials

the 60th Sheep Hills Dawn Service,

understanding the Shrine,

and its links to some Somme towns.
I hope to keep adding to this section over the Great War Centenary years.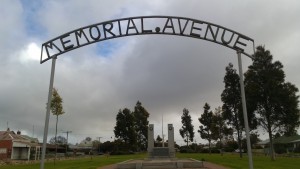 Treasure Hunting in ANZAC places.
This Treasure hunting in ANZAC places pdf will take you through how to research and plan an exploration of a local ANZAC place as a  Treasure Hunt, with an example given from the Wimmera.  See the article based on it at Interpretation Australia magazine special issue ANZACs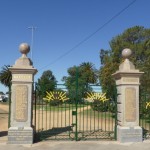 Discovering our ANZAC memorials
A century ago, at the end of the Great War, the lost ANZAC's had been buried overseas. Family and friends had no cemetery to visit at home, no grave to tend. It was no wonder that each community pooled its money to fund its own memorial. So these memorials reflected the individuality of their communities, and they have all been added to with subsequent wars as the 'War to End All Wars' failed to do so. How can we get in touch with what the locals a century ago remembered?  We need to walk around and discover these memorials. The following activity ANZAC memorial activities 4 today is designed to aid that for all ages.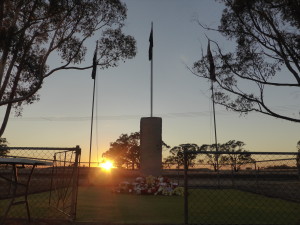 The 60th Sheep Hills Dawn Service 25 April 2016
The first Sheep Hills  'Sunrise'  (dawn) Service was held in 1956. Why did it start? Returned airman Mr Jim Keogh " felt it was high time that the Sheep Hills district acknowledged the debt they owed to those who gave their lives to keep Australia free" (Minyip, May 1956) and he organised it.  Starting with 30+ ex-servicemen and women and the Warracknabeal Brass Band, they marched from the school to the hall, held an  'approved' Anzac  Day service complete with guest speaker and concluded with a breatkfast snack provided by the Sheep Hills ladies.  …. and not a lot has changed since then.
In its first years, there was no memorial in Sheep Hills as a focus for the service. The memorial came in 1960 as a granite cenotaph with district names inscribed of those  who had died in the two world wars,  three flag poles, a fence and the Rising Sun gate.  Now Sheep Hills had all the elements of their ANZAC Day Dawn Service that continues on today!
This is a simply written story of the 60th event that could be read by children   60th Sheep Hills ANZAC Day Dawn Service 2016b  2.8 MB pdf.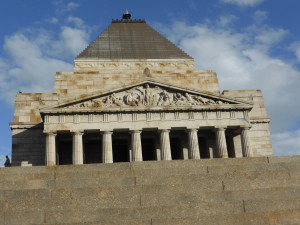 Discovering the Melbourne  Shrine of Remembrance and its links to the Great War battlegrounds
Discover this amazing building – not just architecturally,  but for its symbolic contents throughout reaching out to us from the Victorian community in the aftermath of the Great War shrine-cultural-environment-linksacrosstimeseas .  Seeking to understand and empathise with the Victorian people (not government) who built and paid for it in 1927-1934- a decade after the Great War ended, and through the Great Depression. What they might have been aiming to do to hand down to us and the future still to come?
I was particularly captivated by the naming of battlegrounds (= links to many overseas cemeteries) around the Shrine where Victorian families could then come and feel 'close' to their lost loved one, and the fact that this building was not paid for by the government, but by the people.  Two of these overseas links were to Somme places I visited in 2015 – see below.

Annotated photos from my visit to the Somme 24-26 April  2015
page set up 1 June 2015, latest update April 25 2016, 9 Nov 2016, 28 Jan 2017.